Etisalat Afghanisan signed as title sponsor for Shpageeza Cricket League
Telecommunincation Company Etisalat Afghanistan was signed today as the title sponsor for the seventh edition of Shpageeza Cricket League this September.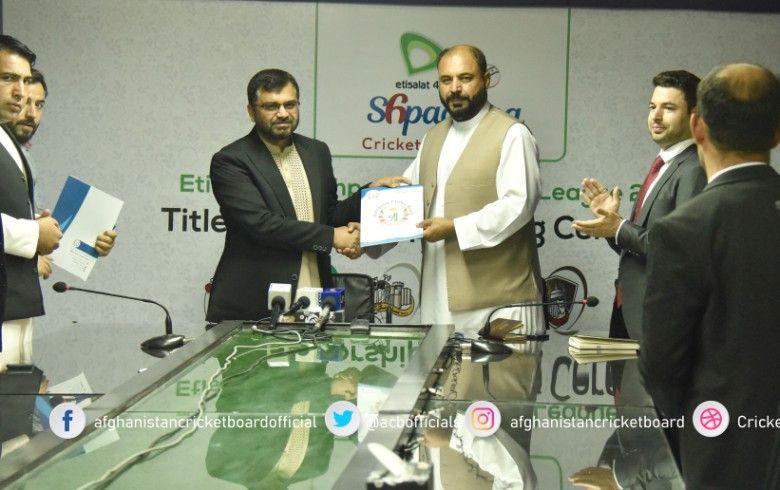 The sponsorship agreement was signed between ACB's acting CEO Mr. Nazeem Jaar AbdulRahimzai and Etisalat's representative Mr. Kefayatullah Nabikheil in presence of officials from both sides.
Addressing the media, Mr. AbdulRahimzai said he was glad ACB and Etisalat Afghanistan came together once again as partners for the seventh edition of SCL which will now be officially titled as " Etisalat 4G Shpageeza Cricket League 2020".
According to Mr. AbdulRahimzai, the sponsorship is worth 45000 USD ( 3.8 million AFN) as well as felicitations for top-performers after each match.
On behalf of Etisalat Afghanistan, Mr. Nabikheil said Etisalat has always been committed to youth development in Afghanistan, and Cricket is the youth's favorite sport nowadays. "Therefore, we are glad to partner with ACB as a sponsor for the Shpageeza Cricket League which is the biggest domestic T20 Competition in Afghanistan." He added.
The seventh edition of Shpageeza Cricket League will be held from 6th to 16th September at the Kabul Cricket Stadium and will be telecast live on the National Radio Television of Afghanistan (RTA).